#OtherEUFunding: European Remembrance call for proposals (CERV)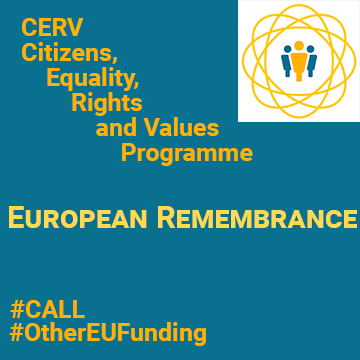 The CERV programme (Citizens, Equality, Rights and Value Programme) launched the "European Remembrance call for proposals".
Two topics are in the focus of the 2022 call:
Commemoration of and research and education about crimes committed under totalitarian regimes
Crimes committed under totalitarian and authoritarian regimes impacted Europeans fundamentally during the 20th century and shaped Europe's responsibility to never let these crimes happen again. Holocaust Remembrance Day (27 January) and the Day of Remembrance for the victims of all totalitarian and authoritarian regimes (23 August) have been expressions of the EU commitment to keep the memory alive. Commemorating and teaching about these crimes, such as the Holocaust, genocide and crimes against humanity, as well as cultivating the memory of the survivors are key to shaping a common European future. Any attempt to preserve this memory must consist of thorough research, both national and transnational, and continuous education to inspire and guide new generations of Europeans in particular policymakers, opinion makers and other multipliers in defending fundamental rights, the rule of law and democracy.
Resistance, democratic transition and democratic consolidation in the EU
Resistance played a key role in fighting occupation, overthrowing totalitarian regimes, and paving the way for democratic transitions in Europe. The violations of fundamental freedoms under totalitarian or other regimes have been repeatedly challenged by different parts of society. It remains crucial to celebrate and educate about these instances, actors and groups as examples for today and the future to defend fundamental freedoms.
The call supports several EU strategies:
An online info-session will be organised by the European Commission on 2nd February 2022 9:30-12:00 CET.
These News could Be Also Interesting
events
i-Portunus Houses survey on mobility
events
Cultural heritage is back in action!
events
Selected Applicants – i-Portunus Houses Round 2