Cultural heritage is back in action!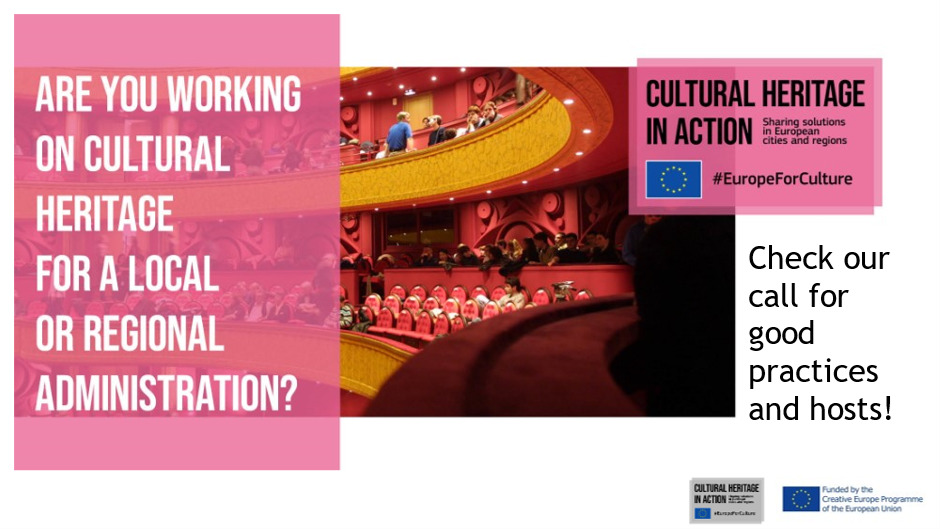 Cultural Heritage in Action is the EU peer-learning scheme on cultural heritage that supports exchanges between large numbers of cities, regions and stakeholders, thus building a broad learning community.
The project is funded by the European Union's Creative Europe programme from January 2020 to January 2023. Led by Eurocities with KEA, ERRIN, Europa Nostra and Architects' Council of Europe, the project is part of the European Framework for Action on Cultural Heritage of the European Commission, adopted in December 2018 as a legacy document of the European Year of Cultural Heritage 2018.
The project identifies good practices from EU cities and regions and supports the exchange of experience through direct contact between rural, local, regional and national administrations as well as experts (civil society, NGOs, local organisations, urban planners, architects, etc.) during thematic peer-learning visits.
In its second phase (2021-2023), Cultural Heritage in Action will continue to empower European cities and regions to strengthen their cultural heritage policies and initiatives as well as develop innovative solutions to preserve cultural heritage assets.
A new call for good practices is now open for practices that are innovative, inspiring for other cities and regions and have a real impact on the ground on the topics of:
Recovery and resilience through cultural heritage in a post pandemic world
Cultural heritage for local sustainable development
Governance and financing: new roles for local and regional authorities
The project will enrich an already existing catalogue with 30 more good practices and will organise a set of peer-learning activities, including 5 onsite peer learning visits to take place between February and November 2022. A call to host one of the onsite peer learning visits is also OPEN until 31 December 2021.
These News could Be Also Interesting
events
i-Portunus Houses survey on mobility
events
Selected Applicants – i-Portunus Houses Round 2
events
European Heritage Awards / Europa Nostra Awards 2022