European Film Forum – Berlin EFM 2022
Towards a Climate-Neutral Audiovisual Sector
Monday 14 February 9:30 CET
In December 2020, the European Commission adopted a Media and Audiovisual Action Plan, which aims to support the recovery and transformation of the media and audiovisual sectors. The Action Plan proposes 10 initiatives, including Action 6 'Towards a climate-neutral audiovisual sector'.
While measurement of carbon emissions and labels for green production are at the heart of the many private and public initiatives already taken to reduce emissions across Europe, the lack of coordination is a limiting factor, as soon as cooperation across borders is involved.
The Berlin EFM instalment of the European Film Forum will explore the challenges and opportunities of building a cleaner industry and working with carbon calculators, and will build on the work carried out by a Commission-led technical working group tasked with the development of a common methodology for the measurement of CO2 emissions in the audiovisual sector.
Full programme: EFF Berlin – europeanfilmforum
Livestream: www.europeanfilmforum.eu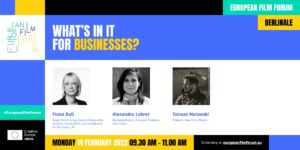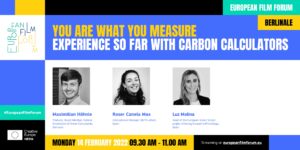 venue
online: www.europeanfilmforum.eu
contact
https://europeanfilmforum.eu/berlin
These events might also be interesting for you